What is a Powerline Adapter?
A Powerline Adapter turns the electrical wiring of a home into a network cable and transmits signals to every room. You can form a Powerline network wherever there are power outlets, eliminating the need for expensive and complicated Ethernet cables.
To form a basic Powerline network, you need at least two Powerline devices, whether wired or wireless ones. Different combinations of Powerline products help create a stable and unified network throughout your house.
Who needs a Powerline Adapter?
A Powerline Adapter is ideal for people who live in big houses with thick walls and multiple floors as well as people who desire easy setup of a new network.
Some people may choose range extenders to expand their router's network. However, sometimes thick walls and floors block the WiFi signals amplified by the range extender and still leave dead zones in your home.
With Powerline Adapters, there's no need for drilling or wire installation. You can turn your home's electrical wiring into a high-speed network with ease. Every single adapter acts as a portable LAN port, transmitting a wired and wireless network to any place in your home where there's an outlet, regardless of physical obstacles.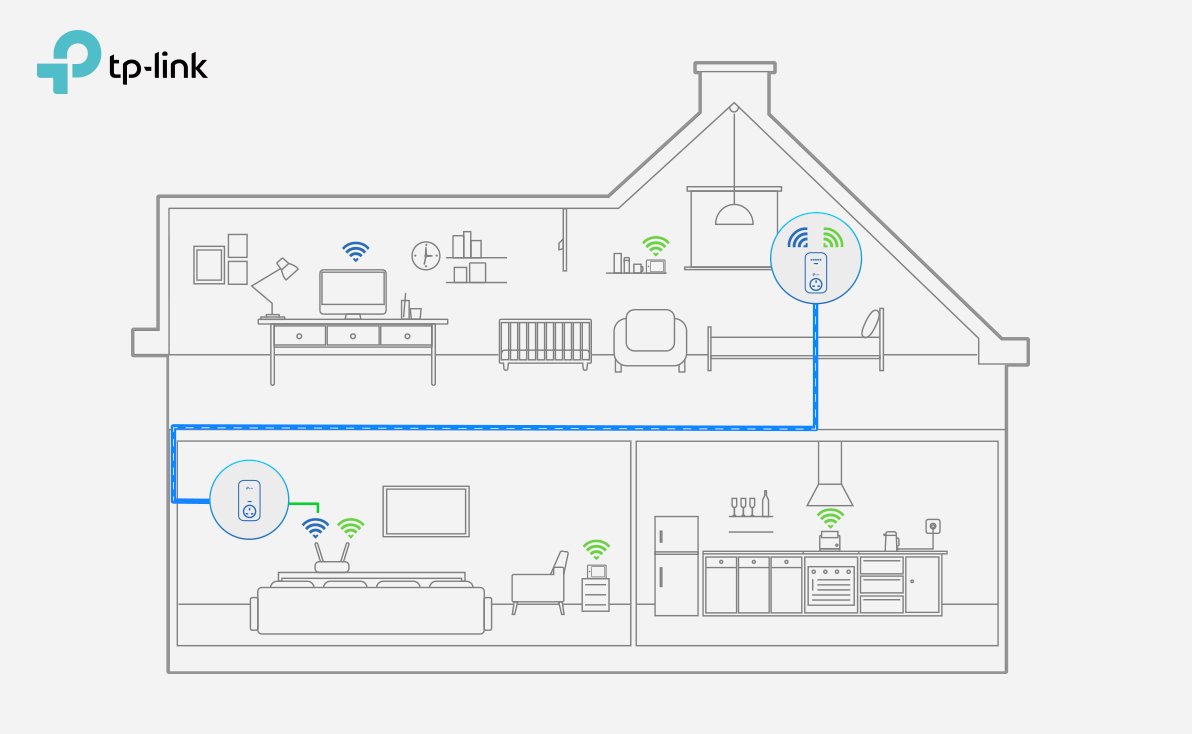 How does a Powerline Adapter work?
Powerline Adapters  must be deployed in a set of two or more and be connected to the same electrical circuit. Using electric power conductors as the medium to send data, the adapters follow the HomePlug standard developed by the HomePlug Powerline Alliance. The currently used standards are HomePlug AV and HomePlug AV2.
HomePlug AV achieves a physical signal rate of up to 600 Mbps. It provides more bandwidth than previous standards for entertainment applications such as HDTV and home theater. HomePlug AV offers an easy, cost-effective solution to enable HDTV at home without new wiring. However, the latest bandwidth-hungry applications now ask for more bandwidth than is provided by HomePlug AV.
This brings us to HomePlug AV2, which operates with other HomePlug standards. HomePlug AV2 delivers Gigabit physical speeds thanks to its MIMO technology that establishes multiple simultaneous connections to improve data transfer rates, stability, and coverage—ideal for 4K Ultra HD video, online gaming, and Internet of Things. Home connectivity for the ever-increasing number of network devices is so much easier now.
Features of a Powerline Adapter
1. High Powerline Speeds
Using advanced HomePlug AV/AV2 technology, Powerline products provide stable and high-speed data transmissions where there is a power outlet. Stream in HD, game online, and download large files without interruption thanks to reliable Powerline links.
2. Wifi Speeds
Most wireless Powerline devices support wireless the AC Standard. You can effortlessly extend a wireless network to share with all your WiFi devices in your home or office.
3. Ethernet Ports for Wired Connections
With Ethernet ports, Powerline adapters can run multiple high-speed and reliable wired connections at the same time for devices like smart TVs, PCs, and game consoles.
4. Extra Power Sockets for Additional Devices
The integrated power socket means Powerline Adapters can be used like a traditional power outlet. Simply plug in your device or extension lead as though it were a normal wall socket.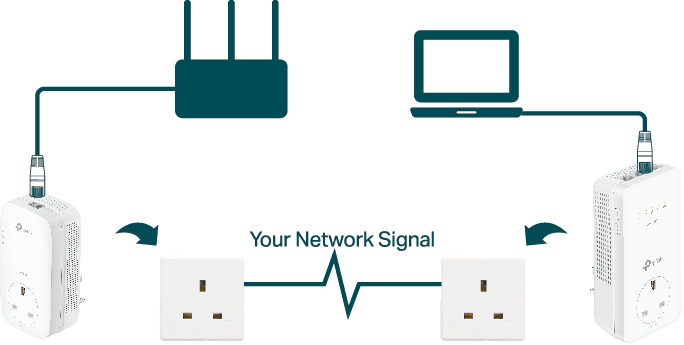 How to set up a PowerLine Adapter?
1. Simply plug a Powerline adapter into a power outlet and connect it to your router's LAN port via an Ethernet cable.
2. Then plug in another adapter or extender into a power outlet on the same electrical circuit.
3. When the Powerline LED turns on, enjoy your newly extended network.
4. Experience simple network management with our user-friendly tpPLC app, tpPLC Utility, and web interface.
In Conclusion....
Powerline Adapters offers a quick and easy way to extend your home network. They are affordable and don't require you to install any extra cables in your home. 
Video